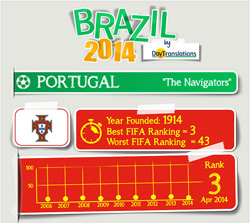 The significance of playing in a Portuguese-speaking nation is not lost on Portugal's captain Cristiano Ronaldo, who was named by the Guardian's panel of experts as the 33rd greatest World Cup player of all time and described as "arguably the best player in the world". Ronaldo stated that he is aware of the eyes that are "fixed" on his team and considers his captaincy a "big responsibility". All of the pre-finals analysis is supportive of Portugal: On June 2, the team was ranked #7 in the World Football Elo Ratings, based on the Elo chess-based rating system developed by physics professor Dr. Arpad Elo; Goldman Sachs predicts the Portuguese will reach the quarter-finals; and Bloomberg Sports has given the team a 6 percent chance of victory from a group that also consists of the German powerhouse. If Ronaldo can continue on with the victorious form of his UEFA side, Real Madrid, then you may need to watch out for another European team.

Embed the Portugal Full Infographic
Medium JPG – 600×2000 (946k)
Instruction: Please copy the code below and paste it on your website.