Thinking about teaching English abroad? Maybe you're looking to escape the current political climate, or a stifling economy that offers few work opportunities beyond the service industry. Or maybe you just want to put that wanderlust into action and get out into the world to see someplace new.
For many native English speakers, teaching English abroad is the perfect first step into a global lifestyle. In fact, there are an estimated 250,000 native speakers teaching English abroad in countries around the world.
Turnover is high, as many teachers travel onward or return home after their first year, which means jobs are opening up all the time. China and South Korea each hire about 1,000 English teachers per month, and demand is increasing.
To qualify for a job teaching English abroad, often you only need a bachelor's degree. It doesn't matter what subject you studied, as long as it's from an accredited University or college in your English speaking home country.
Some countries require a TEFL (Teaching English as a Foreign Language) certificate as well. Consider getting TEFL certified if you want to have an advantage teaching English abroad. It's also helpful if you are looking for jobs in a more competitive market like the middle east.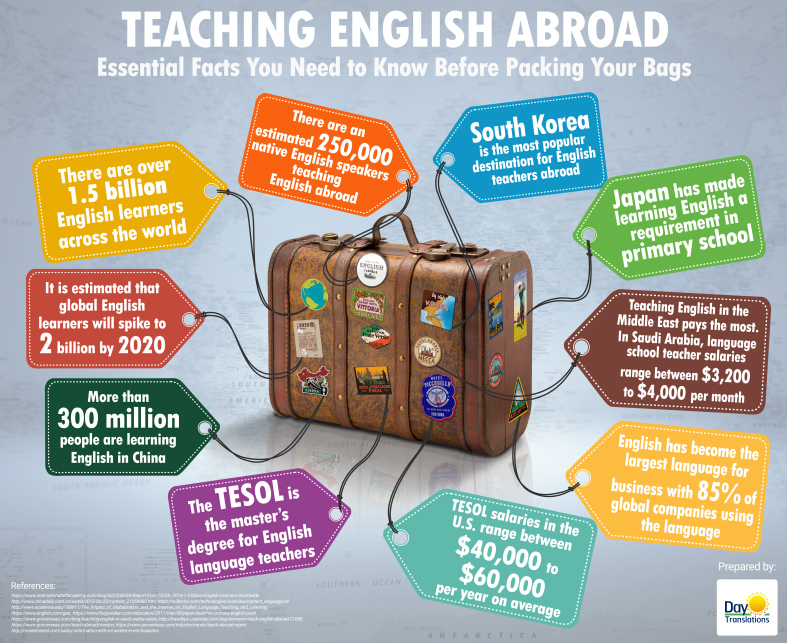 The Perks of Teaching English Abroad
Teaching English to Speakers of Other Languages (or TESOL) has many incentives. Many employers in China and South Korea, for example, pay for your flight out, your rent and utilities, and offer a salary that allows you to save hundreds of dollars a month while you're teaching English abroad–a thousand, if you're diligent.
You can take this money home to start a new life, or use it to travel for the next year. Or, if you're staying to continue teaching English abroad, put it towards enjoying a higher standard of living than you had back home.
Some places, like Japan, have a higher cost of living and therefore it's more difficult to save. But the opportunity to live immersed in a globally influential culture has a powerful appeal.
And at the heart of things, the mystery and excitement of living in a completely foreign place is more enticing than any of the financial incentives of teaching English abroad. When you're exploring temples and eating foods you've never heard of, you'll be having way too much fun to think about financial planning.
Encountering Prejudice
People from countries like Trinidad or Jamaica might have a harder time finding a job teaching English abroad, because employers often give preference to British, Canadian, American, Irish, and Australian applicants. It's not fair, but our rules of fairness don't always apply in other cultures. Be prepared to search a little harder in order to land a job.
People of color applying to teach in ethnically homogenous places like South Korea and Japan should prepare themselves for shocking amounts of outward prejudice. Some people have a very fixed idea of what an English teacher should look like. Many have never spoken to a POC and will behave awkwardly. There's a great post on how to deal with this at GoAbroad.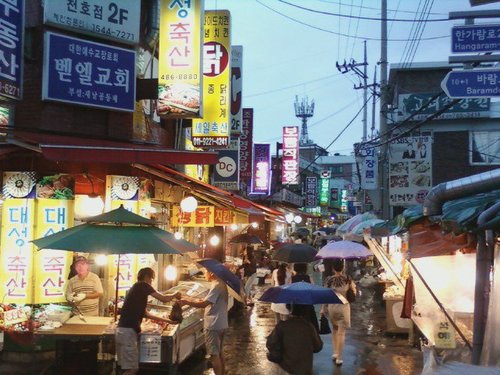 Dealing With Culture Shock
Adjusting to the elements of another culture that we consider unfair or illogical is part of dealing with culture shock. Culture shock is very real! Don't underestimate it while you're teaching English abroad. The four main stages of culture shock, according to an advisory by Princeton University, are:
Honeymoon

, in which everything seems new, exciting and wonderful. You have a sense of euphoria, and interact with the new culture superficially (e.g. like a tourist). Teaching English abroad seems like the best decision you ever made.

Hostility

, in which you focus on the frustrating differences between your host and home cultures. Little problems blow out of proportion. The novelty has worn off. Your own stereotypes and prejudices rise to the surface. You wonder why you made the decision to start teaching English abroad.

Adjustment

, in which your sense of humor returns and you resolve to make the most of things. You cruise the ups and downs more gracefully, and you start to understand the culture more deeply.

Biculturalism

,

in which you feel at home in your new culture. It no longer seems foreign. Differences no longer trip you up. You are able to live and work to your full potential.
Everybody is different, but these four phases tend to take about three months each, so they should play out over your first year of teaching English abroad.
What's it Like in the Classroom?
It's okay if you don't have any experience teaching. When you're teaching English abroad, you're usually on a team of professional teachers native to your host country who will teach students more technical things like English grammar. Your job will be to provide full immersion, so the students have a chance to converse in an English-only environment.
Teaching materials are often provided, which means that while you're teaching English abroad you don't always have control over your lesson planning, but you do have support and guidance for your curriculum.
Jobs teaching English abroad are available in public schools and universities, as well as at private companies like after school academies ("cram schools"). Some of these cram schools can be dodgy, and some are reputable. Before signing anything, ask around on places like Dave's ESL Cafe for information about the company offering you a position.
You don't want to find yourself on a plane back home three months into your year teaching English abroad because your cram school suddenly closed!
It's possible to teach English abroad to adults instead of children. If this is your preference, consider looking for jobs at universities or companies that teach business English.
Getting Started Teaching English Abroad
The easiest way to get started looking for a TESOL job is to use a recruiting service. For China and South Korea, try Adventure Teaching. This is a free service (they get paid by the company that hires you). They walk you through the application process, including all of the hoops you have to jump through to get a visa. They also offer excellent support upon arrival and all throughout your first year of teaching.
Now that you have some tools to get started teaching English abroad, all that's left is to take the big leap and make the decision to go. Remember, the only difference between people who go and people who don't is the people who go, go!