Professional interpreting services can be provided in basically two different modes or types: consecutive or simultaneous. Understanding the differences between them, and their advantages and disadvantages in specific contexts is important when you require interpreting services.
Our translation and interpreting agency is considered a leader in the interpretation industry and our experienced interpreters can provide you both simultaneous and consecutive interpreting services tailored to your needs.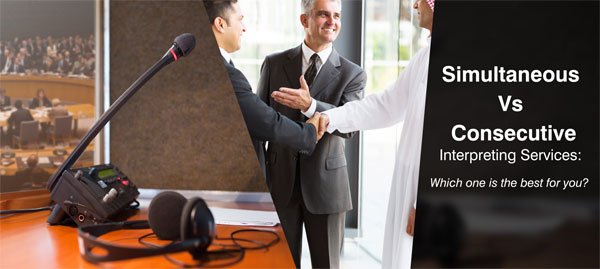 The ABCs of Simultaneous Interpretation
Briefly explained, in a simultaneous interpreting service the speaker and the interpreter speak at the same time. There are no pauses and the interpreter needs to be in a sound-proof both, wear a pair of headphones and speak into a microphone in order to understand what the speaker is saying clearly and be able to translate it verbally without an flaws.
Simultaneous interpreters listen to what the speaker says and within only a few seconds convey the message into the target language. They need to be highly trained and focused on what they are doing. In general, simultaneous interpreters work in small teams as they need to alternate every few minutes.
When is Simultaneous Interpreting Required?
Simultaneous interpreting services are especially tailored for those situations in which large amounts of information need to be conveyed accurately. They are also very suitable for those social situations in which a lot of people are involved and it is essential that all the different parties can communicate fluently between them.
Multilingual conferences, diplomatic proceedings or international arbitrations are some of the situations in which simultaneous interpreting is required.
The ABCs of Consecutive Interpretation
While participating in a consecutive interpretation, the interpreter waits until the speaker rounds up an idea to convey the message into the target language. The interpreter seats next to the speaker, listening and taking down notes of what's being said so that he can accurately render the interpreted message.
The fragments that are interpreted are around 5 minutes long to make sure that the listener doesn't have to wait much to hear the speaker's words in his own language.
When is Consecutive Interpreting More Convenient?
Consecutive interpreting is more convenient for those situations in which not many people are involved or if a personal touch is preferred. Business meetings, press conferences, HR meetings, interviews, teleconferences, client-attorney interviews, court depositions or parent-teacher meetings are some of the situations in which a consecutive interpreter can help you communicate better and fluently with somebody that speaks a different language.
Simultaneous Vs Consecutive Interpreting: Making the right decision
Now that you have read about the characteristics and differences of simultaneous and consecutive interpreting services you are ready to decide which of the types of interpretations we offer at Day Translations, Inc. is more suitable for you.
If you are still in doubt, here are some questions you can ask yourself to make sure you choose the right interpreting service:
How many people will participate in the meeting?
Are there a sound-proof booth, headphones and microphones available?
Is a personal touch required?
What kind of information will be communicated?
The answers to these questions will help you decide whether you need to hire a consecutive or a simultaneous interpreter.