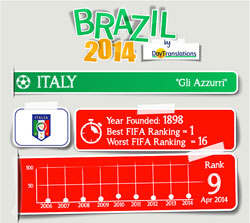 To the surprise of some, financial heavyweight Goldman Sachs (GS) has weighed in on the finals event in Brasil this month. (Well, Stephen Hawking joined the party last month!) At the end of May 2014, GS released a 67-page document titled "The World Cup and Economics 2014", in which Italy is included in a list of 16 nations who have any chance of taking home the treasured Cup. After Pope John Paul II stated: "Amongst all unimportant subjects, football is by far the most important", the Italians will be keen to prove their Bloomberg "Power Ranking" of #9 (0.40 rating). It appears that England and Uruguay will be Italy's toughest opponents in Group D, but with a team that consists of a forward who has commissioned a statue of himself (Mario Balotelli) and 28-year-old defender Gabriel Paletta, who the Guardian predicts will "set a record in Brazil", Cesare Prandelli's multi-faceted Azzurri may end up beating some of the world's strongest after all.

Embed the Italy Full Infographic
Medium JPG – 600×2000 (946k)
Instruction: Please copy the code below and paste it on your website.