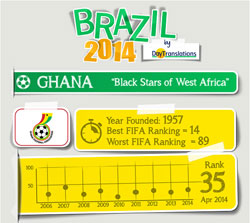 Alongside the four other African teams that have qualified for Brasil 2014, Ghana finds itself mentioned in last week's controversy regarding the Guardian's "Top 100" greatest World Cup players list, as comments have been made about the low number of African inclusions. It is an issue that Ghana's coach Kwesi Appiah does not need, as he concurrently celebrates being the nation's first-ever Ghanaian coach, while contending with a group that includes Germany and Portugal. Bloomberg Sports has given Ghana the lowest percentage-chance of winning in Group G (even though it is only 0.1 percent less than the U.S.A.); however, even though former captain John Mensah has missed out, the team will be supported by Asamoah Gyan and Sulley Muntari, who are each playing in their third consecutive World Cup finals, and may beat the odds in the end.

Embed the Ghana Full Infographic
Medium JPG – 600×2000 (946k)
Instruction: Please copy the code below and paste it on your website.