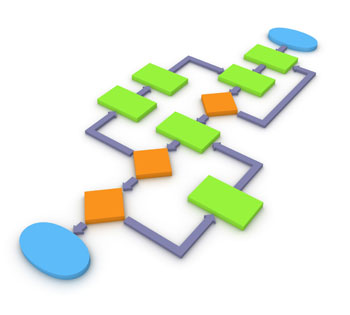 If you search for "translation services" in Google, you will discover that there are almost 16 million entries in U.S. Google universe alone. Can you imagine the number of entries if you expanded the search worldwide? Such impressive figures attest to the huge demand for translation services, which is not surprising if you take into consideration that today's world is globalized in nature. In fact, as a former client, you have engaged our translation and/or interpreting services at least once to professionally help you with a document that needed to be translated into another language or with a meeting involving individuals from different language groups.
Have you ever wondered what goes on behind the scenes in our agency once we receive a translation request? Who receives your request? Who decides which translator or translators are best suited to prepare your documents? How are the quality and accuracy of your translation assured? Please, be our guest and get to know us better! This article invites you to discover who is who in our translation agency.
New Translation Project Has Arrived!
As soon as a new translation project arrives at Day Translations, Inc., whether by e-mail, phone message, or personally delivered at any of our physical offices, one of our dedicated project managers looks into the documents that need to be translated and gets in touch with the client in order to make sure that the final translated file(s) will match his or her expectations. Once the file is reviewed, the client receives an estimated quote for his translation request within a span of 15 minutes. After it is accepted, the project manager can decide which translator will be responsible for this project.
Choosing the Best Translator
Project managers consider numerous issues as they decide which of our translators will work on each translation. At our translation agency, we receive a wide variety of files to translate: legal documents, business reports, medical files, literary pieces, technical manuals, film scripts, birth certificates, and marriage licenses, just to mention a few.
Not all translators are suited for translating every document; their area of specialty, their expertise, and their mastery of technical jargon from the source language into the target one are key factors in the project managers' decisions between one language professional or the other.
Once the most suitable language expert is chosen, he or she is provided with the documents that need to be translated together with any other specifications that the client may have provided. The translator is then asked to deliver the translated files within a specific time frame. Our translators are expected to not only deliver perfect translations but also to ensure that the final document is a mirror image of the original one.
Proofreading and Reviewing: Vital Aspects of Our Translation Process
Once the translator delivers the translated files to the project manager, a very important step begins: proofreading and reviewing.
Each and every translated document we manage is thoroughly reviewed and proofread to make sure that the client receives the perfect and accurate translation he or she expects from us. Once the translation is reviewed, it is ready to be delivered to our client.
The End of the Way
Once the project manager receives the proofread and reviewed version of the translated files, he or she delivers them to the client. Our clients can pick up their finished translations from any of our physical offices or have them sent directly to their inbox or by fax or mail.