Country Profile of Poland:
Vital Information, Facts and Statistics about Poland and its Economy.
---
Day Translations Poland | For inquiries, email us at [email protected]
The Republic of Poland is a country in Central Europe bordered by Germany to the west; the Czech Republic and Slovakia to the south; Ukraine, Belarus and Lithuania to the east; and the Baltic Sea and Kaliningrad Oblast, a Russian exclave, to the north. The total area of Poland is 312,679 square kilometers (120,726 sq mi), making it the 69th largest country in the world and the 9th largest in Europe. Poland has a population of over 38 million people, which makes it the 34th most populous country in the world and the sixth most populous member of the European Union, being its most populous post-communist member.
The establishment of a Polish state is often identified with the adoption of Christianity by its ruler Mieszko I in 966, over the territory similar to that of present-day Poland. The Kingdom of Poland was formed in 1025, and in 1569 it cemented a long association with the Grand Duchy of Lithuania by signing the Union of Lublin, forming the Polish-Lithuanian Commonwealth.
The Commonwealth ceased to exist in 1795 as the Polish lands were partitioned among the Kingdom of Prussia, the Russian Empire, and Austria. Poland regained its independence as the Second Polish Republic in 1918. Two decades later, in September 1939, it was invaded by Nazi Germany and the Soviet Union, triggering World War II. Over six million Polish citizens died in the war. Poland reemerged several years later within the Soviet sphere of influence as the People's Republic in existence until 1989.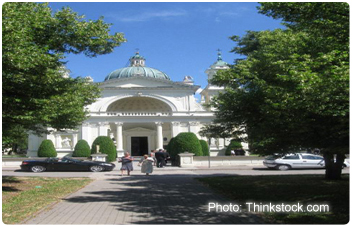 During the Revolutions of 1989, communist rule was overthrown and soon after, Poland became what is constitutionally known as the "Third Polish Republic". Poland is a unitary state made up of sixteen voivodeships (Polish: województwo). Poland is a member of the European Union, NATO, the United Nations, the World Trade Organization, and the Organization for Economic Co-operation and Development (OECD).
Poland's high-income economy is considered to be one of the healthiest of the post-Communist countries and is currently one of the fastest growing within the EU. Since the fall of the communist government, Poland has steadfastly pursued a policy of liberalizing the economy and today stands out as a successful example of the transition from a centrally planned economy to a primarily market-based economy.
Professional Polish translation and interpreting services are crucial to any foreign companies and individuals with business interests in Poland. We can gladly provide you with the finest and most accurate Polish language translations to help you in your job or your business. We aim to have you absolutely satisfied!Introduction
:: Background of Poland ::
Poland is an ancient nation that was conceived near the middle of the 10th century. Its golden age occurred in the 16th century. During the following century, the strengthening of the gentry and internal disorders weakened the nation. In a series of agreements between 1772 and 1795, Russia, Prussia, and Austria partitioned Poland amongst themselves. Poland regained its independence in 1918 only to be overrun by Germany and the Soviet Union in World War II. It became a Soviet satellite state following the war, but its government was comparatively tolerant and progressive. Labor turmoil in 1980 led to the formation of the independent trade union "Solidarity" that over time became a political force and by 1990 had swept parliamentary elections and the presidency. A "shock therapy" program during the early 1990s enabled the country to transform its economy into one of the most robust in Central Europe, but Poland still faces the lingering challenges of high unemployment, underdeveloped and dilapidated infrastructure, and a poor rural underclass. Solidarity suffered a major defeat in the 2001 parliamentary elections when it failed to elect a single deputy to the lower house of Parliament, and the new leaders of the Solidarity Trade Union subsequently pledged to reduce the Trade Union's political role. Poland joined NATO in 1999 and the European Union in 2004. With its transformation to a democratic, market-oriented country largely completed, Poland is an increasingly active member of Euro-Atlantic organizations.
:: Geography of Poland ::
Location: Central Europe, east of Germany
Geographic coordinates: 52 00 N, 20 00 E
Area:
total: 312,685 sq km
land: 743,812 sq km
water: 8,430 sq km
Area – comparative: slightly smaller than New Mexico
Land boundaries: 3,047 km
Border countries: Belarus 605 km, Czech Republic 615 km, Germany 456 km, Lithuania 91 km, Russia (Kaliningrad Oblast) 432 km, Slovakia 420 km, Ukraine 428 km
Coastline: 440 km
Maritime claims:
territorial sea: 12 nm
exclusive economic zone: defined by international treaties
Climate: temperate with cold, cloudy, moderately severe winters with frequent precipitation; mild summers with frequent showers and thundershowers
Terrain: mostly flat plain; mountains along southern border
Elevation extremes:
lowest point: near Raczki Elblaskie -2 m
highest point: Rysy 2,499 m
Natural resources: coal, sulfur, copper, natural gas, silver, lead, salt, amber, arable land
Land use:
arable land: 40.25%
permanent crops: 1%
other: 58.75% (2005)
Irrigated land: 1,000 sq km (2003)
Total renewable water resources: 63.1 cu km (2005)
Freshwater withdrawal (domestic/industrial/agricultural):
total: 11.73 cu km/yr (13%/79%/8%)
per capita: 304 cu m/yr (2002)
Natural hazards: flooding
Environment – current issues: situation has improved since 1989 due to decline in heavy industry and increased environmental concern by post-Communist governments; air pollution nonetheless remains serious because of sulfur dioxide emissions from coal-fired power plants, and the resulting acid rain has caused forest damage; water pollution from industrial and municipal sources is also a problem, as is disposal of hazardous wastes; pollution levels should continue to decrease as industrial establishments bring their facilities up to EU code, but at substantial cost to business and the government.
Environment – international agreements: party to: Air Pollution, Antarctic-Environmental Protocol, Antarctic-Marine Living Resources, Antarctic Seals, Antarctic Treaty, Biodiversity, Climate Change, Climate Change-Kyoto Protocol, Desertification, Endangered Species, Environmental Modification, Hazardous Wastes, Kyoto Protocol, Law of the Sea, Marine Dumping, Ozone Layer Protection, Ship Pollution, Wetlands; signed but not ratified: Air Pollution-Nitrogen Oxides, Air Pollution-Persistent Organic Pollutants, Air Pollution-Sulfur 94
Geography – note: historically, an area of conflict because of flat terrain and the lack of natural barriers on the North European Plain
:: People of Poland ::
Population: 38,441,588 (July 2011 est.)
Age structure:
0-14 years: 14.7% (male 2,910,324/female 2,748,546)
15-64 years: 71.6% (male 13,698,363/female 13,834,779)
65 years and over: 13.7% (male 2,004,550/female 3,245,026) (2011 est.)
Median age:
total: 38.5 years
male: 36.8 years
female: 40.3 years (2011 est.)
Population growth rate: -0.062% (2011 est.)
Birth rate: 10.01 births/1,000 population (2011 est.)
Death rate: 10.17 deaths/1,000 population (July 2011 est.)
Net migration rate: -0.47 migrant(s)/1,000 population (2011 est.)
Urbanization:
urban population: 61% of total population (2010)
rate of urbanization: -0.1% annual rate of change (2010-15 est.)
Sex ratio:
at birth: 1.061 male(s)/female
under 15 years: 1.06 male(s)/female
15-64 years: 0.99 male(s)/female
65 years and over: 0.62 male(s)/female
total population: 0.94 male(s)/female (2011 est.)
Infant mortality rate:
total: 6.54 deaths/1,000 live births
male: 7.25 deaths/1,000 live births
female: 5.79 deaths/1,000 live births (2011 est.)
Life expectancy at birth:
total population: 76.05 years
male: 72.1 years
female: 80.25 years (2011 est.)
Total fertility rate: 1.3 children born/woman (2011 est.)
HIV/AIDS – adult prevalence rate: 0.1% note: no country specific models provided (2009 est.)
HIV/AIDS – people living with HIV/AIDS: 27,000 (2009 est.)
HIV/AIDS – deaths: fewer than 200 (2009 est.)
Nationality: noun: Pole(s) adjective: Polish
Ethnic groups: Polish 96.7%, German 0.4%, Belarusian 0.1%, Ukrainian 0.1%, other and unspecified 2.7% (2002 census)
Religions: Roman Catholic 89.8% (about 75% practicing), Eastern Orthodox 1.3%, Protestant 0.3%, other 0.3%, unspecified 8.3% (2002)
Languages: Polish (official) 97.8%, other and unspecified 2.2% (2002 census)
Literacy:
definition: age 15 and over can read and write
total population: 99.8%
male: 99.8%
female: 99.7% (2003 est.)
School life expectancy (primary to tertiary education):
total: 15 years
male: 15 years
female: 16 years (2008)
Education expenditures: 4.9% of GDP (2007)
Partial list of cities worldwide where Day Translations have professional translators and interpreters




Birmingham, Alabama
Montgomery, Alabama
Anchorage, Alaska
Juneau, Alaska
Phoenix, Arizona
Tucson, Arizona
Little Rock, Arkansas
Los Angeles, California
San Diego, California
San Francisco, California
San Jose, California
Santa Barbara, California
Goleta, California


Sacramento, California
Denver, Colorado
Hartford, Connecticut
Dover, Delaware
Bartow, Florida
Fort Clinch, Florida
Fort Lauderdale, Florida
Jacksonville, Florida
Miami, Florida
Orlando, Florida
Pompano, Florida
St.Augustine, Florida
Tampa, Florida


St.Petersburg, Florida
Atlanta, Georgia
Decatur, Georgia
Savannah, Georgia
Honolulu, Hawaii
Maui, Hawaii
Boise, Idaho
Chicago, Illinois
Joliet, Illinois
Springfield, Illinois
Indianapolis, Indiana
Des Moines, Iowa
Topeka, Kansas


Frankfort, Kentucky
Baton Rouge, Louisiana
New Orleans, Louisiana
Augusta, Maine
Baltimore, Maryland
Beltsville, Maryland
Boston, Massachusetts
Dearborne, Michigan
Detroit, Michigan
Minneapolis, Minnesota
St. Paul, Minnesota
Jackson, Mississippi
Columbus, Missouri


Kansas City, Missouri
Helena, Montana
Omaha, Nebraska
Las Vegas, Nevada
Reno, Nevada
Concord, New Hampshire
Elizabeth, New Jersey
Jersey City, New Jersey
Asheville, North Carolina
Raleigh, North Carolina
Cincinnatti, Ohio
Cleveland, Ohio
Columbus, Ohio


Oklahoma City, Oklahoma
Portland, Oregon
Philadelphia, Pennsylvania
Pittsburgh, Pennsylvania
Providence, Rhode Island
Charleston, South Carolina
Pierre, South Dakota
Nashville, Tennessee
Amarillo, Texas
Austin, Texas
Dallas, Texas
Fort Worth, Texas
Houston, Texas


Laredo, Texas
Lareto, Texas
San Antonio, Texas
Salt Lake, Utah
Montpelier, Vermont
Richmond, Virginia
Seattle, Washington
Charleston, West Virginia
Green Bay, Wisconsin
Cheyenne, Wyoming
Washington DC
Trenton, New Jersey
Albuquerque, New Mexico


Albany, New York
Long Island, New York
Manhattan, New York
New York City
Queens, New York
Yonkers, New York
Rochester, New York
Bismark, North Dakota


Partial list of cities in the United States where Day Translations have professional translators and interpreters




Abidjan
Adis Abeba
Alexandria
Alger
Almadabad
Amsterdam
Ankara
Athina
Auckland
Baghdãd
Bangalore


Bangdung
Bangkok
Beijing
Bogotá
Berlin
Brussels
Baghdãd
Cadiz
Cairo
Calcutta
Cali


Cape Town
Caracas
Cartagena
Cartago
Casablanca
Changchun
Chengdu
Chennai
Chile
Chongging
Copenhagen


Cúcuta
Dalian
Delhi
Dhaka
Dubai
Dusseldorf
Belo Horizonte
Essen
Florence
Frankfurt
Fukuoka


Geneva
Guadalajara
Guangzhou
Handan
Hangzhou
Hanoi
Harbin
Ho Chi Minh
Hong Kong
Hyderabad
Istanbul


Jakarta
Jinan
Kaiserslauten
Karachi
Katowice
Kinshasa
Koln
Kuala Lumpur
Lagos
Lahore
Lima


London
Madrid
Malaga
Manila
Manizales
Maputo
Marseilles
Medellín
Melbourne
Mendoza
Mexico City


Milan
Milano
Monterrey
Montréal
Moscow
Mumbai
Munich
Muscat
Nagoya
Nanjing
Napoli


Nice
Osaka
Paris
Porto Alegre
Prague
Pune
Pusan
Qingdao
Quimbaya
Recife
Rio de Janeiro


Riyad
Rome
Rosario
Salvador
Santiago
Sto Domingo
São Paulo
Seoul
Sevilla
Shanghai
Shenyang


Shenzhen
Singapore
Sonora
St.Petersburg
Stockholm
Sydney
Taipei
Tehrãn
The Hague
Tianjin
Tijuana


Tokyo
Toronto
Valledupar
Vancouver
Vienna
Wuhan
Xi'an
Yangon
Zürich