---
The Republic of Austria is located in Central Europe. It is bordered by Germany and the Czech Republic to the north, Slovakia and Hungary to the east, Slovenia and Italy to the south, and Switzerland and Liechtenstein to the west. The majority of the population speaks German, which is also the country's official language. Other local official languages are Croatian, Hungarian and Slovene.
The origins of Austria date back to the time of the Roman Empire when a Celtic kingdom was conquered by the Romans in approximately 15 BC and later became Noricum, a Roman province, in the mid 1st century AD – an area which mostly encloses today's Austria. In 788 AD, the Frankish king Charlemagne conquered the area and introduced Christianity. Under the native Habsburg dynasty, Austria became one of the great powers of Europe. In 1867, the Austrian Empire was reformed into Austria-Hungary.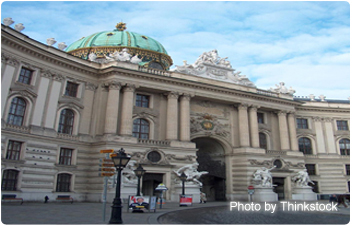 The Austro-Hungarian Empire collapsed in 1918 with the end of World War I. The First Austrian Republic was established in 1919. In the 1938 Anschluss, Austria was occupied and annexed by Nazi Germany. This lasted until the end of World War II in 1945, after which Austria was occupied by the Allies and its former democratic constitution was restored. In 1955, the Austrian State Treaty re-established Austria as a sovereign state, ending the occupation. In the same year, the Austrian Parliament created the Declaration of Neutrality which declared that the country would become permanently neutral.
Today, Austria is a parliamentary representative democracy comprising nine federal states. The capital and largest city, with a population exceeding 1.6 million, is Vienna. Austria is one of the richest countries in the world, with a nominal per capita GDP of $43,723 (2010 est.). The country has developed a high standard of living and in 2010 was ranked 25th in the world for its Human Development Index.
Professional German translation and interpreting services are crucial to any foreign companies and individuals with business interests in Austria. We can gladly provide you with the finest and most accurate German language translations to help you in your job or your business. We aim to have you absolutely satisfied!
:: Background of Austria ::
Once the center of power for the large Austro-Hungarian Empire, Austria was reduced to a small republic after its defeat in World War I. Following annexation by Nazi Germany in 1938 and subsequent occupation by the victorious Allies in 1945, Austria's status remained unclear for a decade. A State Treaty signed in 1955 ended the occupation, recognized Austria's independence, and forbade unification with Germany. A constitutional law that same year declared the country's "perpetual neutrality" as a condition for Soviet military withdrawal. The Soviet Union's collapse in 1991 and Austria's entry into the European Union in 1995 have altered the meaning of this neutrality. A prosperous, democratic country, Austria entered the EU Economic and Monetary Union in 1999.
:: Geography of Austria ::
Location: Central Europe, north of Italy and Slovenia
Geographic coordinates: 47 20 N, 13 20 E
Area:
total: 83,871 sq km
land: 82,445 sq km
water: 1,426 sq km
Area – comparative: slightly smaller than Maine
Land boundaries: 2,562 km
Border countries: Czech Republic 362 km, Germany 784 km, Hungary 366 km, Italy 430 km, Liechtenstein 35 km, Slovakia 91 km, Slovenia 330 km, Switzerland 164 km
Coastline: 0 km (landlocked)
Maritime claims: none (landlocked)
Climate: temperate; continental, cloudy; cold winters with frequent rain and some snow in lowlands and snow in mountains; moderate summers with occasional showers
Terrain: in the west and south mostly mountains (Alps); along the eastern and northern margins mostly flat or gently sloping
Elevation extremes:
lowest point: Neusiedler See 115 m
highest point: Grossglockner 3,798 m
Natural resources: oil, coal, lignite, timber, iron ore, copper, zinc, antimony, magnesite, tungsten, graphite, salt, hydropower
Land use:
arable land: 16.59%
permanent crops: 0.85%
other: 82.56% (2005)
Irrigated land: 40 sq km (2003)
Total renewable water resources: 84 cu km (2005)
Freshwater withdrawal (domestic/industrial/agricultural):
total: 3.67 cu km/yr (35%/64%/1%)
per capita: 448 cu m/yr (1999)
Natural hazards: landslides; avalanches; earthquakes
Environment – current issues: some forest degradation caused by air and soil pollution; soil pollution results from the use of agricultural chemicals; air pollution results from emissions by coal- and oil-fired power stations and industrial plants and from trucks transiting Austria between northern and southern Europe
Environment – international agreements: party to: Air Pollution, Air Pollution-Nitrogen Oxides, Air Pollution-Persistent Organic Pollutants, Air Pollution-Sulfur 85, Air Pollution-Sulphur 94, Air Pollution-Volatile Organic Compounds, Antarctic Treaty, Biodiversity, Climate Change, Climate Change-Kyoto Protocol, Desertification, Endangered Species, Environmental Modification, Hazardous Wastes, Law of the Sea, Ozone Layer Protection, Ship Pollution, Tropical Timber 83, Tropical Timber 94, Wetlands, Whaling; signed, but not ratified: none of the selected agreements
Geography – note: landlocked; strategic location at the crossroads of central Europe with many easily traversable Alpine passes and valleys; major river is the Danube; population is concentrated on eastern lowlands because of steep slopes, poor soils, and low temperatures elsewhere
:: People of Austria ::
Population: 8,217,280 (July 2011 est.)
Age structure:
0-14 years: 14% (male 590,855/female 563,300)
15-64 years: 67.7% (male 2,793,725/female 2,769,840)
65 years and over: 18.2% (male 627,456/female 872,104) (2011 est.)
Median age:
total: 43 years
male: 41.9 years
female: 44 years (2011 est.)
Population growth rate: 0.034% (2011 est.)
Birth rate: 8.67 births/1,000 population (2011 est.)
Death rate: 10.14 deaths/1,000 population (July 2011 est.)
Net migration rate: 1.81 migrant(s)/1,000 population (2011 est.)
Urbanization:
urban population: 68% of total population (2010)
rate of urbanization: 0.6% annual rate of change (2010-15 est.)
Sex ratio:
at birth: 1.051 male(s)/female
under 15 years: 1.05 male(s)/female
15-64 years: 1.01 male(s)/female
65 years and over: 0.71 male(s)/female
total population: 0.95 male(s)/female (2011 est.)
Infant mortality rate:
total: 4.32 deaths/1,000 live births
male: 5.23 deaths/1,000 live births
female: 3.35 deaths/1,000 live births (2011 est.)
Life expectancy at birth:
total population: 79.78 years
male: 76.87 years
female: 82.84 years (2011 est.)
Total fertility rate: 1.4 children born/woman (2011 est.)
HIV/AIDS – adult prevalence rate: 0.3% (2009 est.)
HIV/AIDS – people living with HIV/AIDS: 15,000 (2009 est.)
HIV/AIDS – deaths: fewer than 100 (2009 est.)
Nationality: noun: Austrian(s) adjective: Austrian
Ethnic groups: Austrians 91.1%, former Yugoslavs 4% (includes Croatians, Slovenes, Serbs, and Bosniaks), Turks 1.6%, German 0.9%, other or unspecified 2.4% (2001 census)
Religions: Roman Catholic 73.6%, Protestant 4.7%, Muslim 4.2%, other 3.5%, unspecified 2%, none 12% (2001 census)
Languages: German (official nationwide) 88.6%, Turkish 2.3%, Serbian 2.2%, Croatian (official in Burgenland) 1.6%, other (includes Slovene, official in Carinthia, and Hungarian, official in Burgenland) 5.3% (2001 census)
Literacy:
definition: age 15 and over can read and write
total population: 98%
male: NA
female: NA
School life expectancy (primary to tertiary education):
total: 15 years
male: 15 years
female: 15 years (2008)
Education expenditures: 5.4% of GDP (2007)