Country Profile of Basque Country:
Vital Information, Facts and Statistics about Basque Country and its Economy.
---
Day Translations Basque | For inquiries, email us at [email protected]
The Basque Country, also known as "Euskadi" in Basque and "País Vasco" in Spanish, is a very dynamic country historically, culturally and economically, as a result of a deeply rooted group feeling and a remarkable individual initiative. It is one of the seventeen Autonomous Regions forming the Spanish state and its political organization derives from the Autonomy Law passed in 1979. The Basque Country has its own institutions, such as the Government and the Parliament.
Basque economy has grown significantly over the last decade with a per capita GDP growth from 89.6% in 1990 to 125.6 % in 2005, which placed the country among the top three EU countries in terms of purchasing power.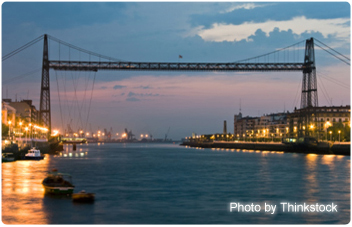 One of the reasons behind this economic strength is the importance of industrial and building sectors in the Basque Country, 38.18 % of the GDP, whereas the European average drops to 26.41%. A centenarian industrial tradition that made Basque industry very competitive and placed it in outer markets above all the European ones.
Industrial policy, investment incentive and assistance for a better quality, innovation and technology developed by the Basque Government helped reaching high level of competitiveness and, besides, we must add to it the services sector's development (which means 60.8% of the GDP), the traditional strength of the Basque financial sector, the trade's modernization, where we would like to stress the Bilbao Exhibition Centre, and the increase of tourism. Therefore, professional Basque translation and interpreting services play a major role.
If you don't speak Basque yourself, we are glad to translate your vision into reality and bring to you the finest and most accurate Basque language translations. We aim to have you absolutely satisfied!
:: Background of Basque ::
Located in the most eastern part of the Gulf of Biscay, the Basque Country has a surface of 7,234 km² and a population exceeding 2 million people, with a density of nearly 300 inhabitants per km². Vitoria-Gasteiz is the capital and it has two official languages: Basque and Spanish.
:: Geography of Basque ::
Location: Southwestern Europe, northern Iberian Peninsula
Geographic coordinates: 42 50 N, 2 41 W
Area:
total: 7,234.8 km²
Area – comparative: approximately the size of Delaware
Land boundaries: 686 km
Coastline: 252 km
Climate: oceanic climate in the northern valleys, with its wet weather all year round and moderate temperatures; continental Mediterranean climate in the middle sections and Ebro Valley, with dry warm summers and cold snowy winters
Terrain: astal plains separated from the interior by low-lying ranges
Elevation extremes:
lowest point: Gulf of Biscay 0 m
highest point: Monte Aitxuri 1,551 m
Natural resources: hydropower, mineral water, timber, oil, iron ore, lead
Land use:
arable land: NA
permanent crops: NA
other: NA
Irrigated land: NA
Natural hazards: floods, avalanches, forest fires
Environment – current issues: deforestation; air pollution; wastewater treatment and solid waste disposal
Environment – international agreements: NA
People of Basque Country
Population: 2,128,801(2010)
Population growth rate: 5.80/1,000 population (2010 est.)
Birth rate: 9.3% (2010 est.)
Death rate: 8.9% (2010 est.)
Infant mortality rate: NA
Life expectancy at birth:
male: 76.4 years
female: 83.7 years (2010 est.)
Total fertility rate: 1.20 children born/woman (2009 est.)
HIV/AIDS – adult prevalence rate: NA
HIV/AIDS – people living with HIV/AIDS: NA
HIV/AIDS – deaths: NA
Nationality: noun: Basque(s) adjective: Basque
Ethnic groups: composite of Mediterranean and Nordic types
Religions: Roman Catholic (predominant)
Immigration Rate: 12.5 per 1,000 cit. (2008)
Languages: Basque and Spanish
Literacy:
definition: NA
total population: 100%
male: 100%
female: 100%
School life expectancy (primary to tertiary education):
total: 16 years
male: 16 years
female: 17 years (2008)
Education expenditures: NA
Partial list of cities worldwide where Day Translations have professional translators and interpreters




Birmingham, Alabama
Montgomery, Alabama
Anchorage, Alaska
Juneau, Alaska
Phoenix, Arizona
Tucson, Arizona
Little Rock, Arkansas
Los Angeles, California
San Diego, California
San Francisco, California
San Jose, California
Santa Barbara, California
Goleta, California


Sacramento, California
Denver, Colorado
Hartford, Connecticut
Dover, Delaware
Bartow, Florida
Fort Clinch, Florida
Fort Lauderdale, Florida
Jacksonville, Florida
Miami, Florida
Orlando, Florida
Pompano, Florida
St.Augustine, Florida
Tampa, Florida


St.Petersburg, Florida
Atlanta, Georgia
Decatur, Georgia
Savannah, Georgia
Honolulu, Hawaii
Maui, Hawaii
Boise, Idaho
Chicago, Illinois
Joliet, Illinois
Springfield, Illinois
Indianapolis, Indiana
Des Moines, Iowa
Topeka, Kansas


Frankfort, Kentucky
Baton Rouge, Louisiana
New Orleans, Louisiana
Augusta, Maine
Baltimore, Maryland
Beltsville, Maryland
Boston, Massachusetts
Dearborne, Michigan
Detroit, Michigan
Minneapolis, Minnesota
St. Paul, Minnesota
Jackson, Mississippi
Columbus, Missouri


Kansas City, Missouri
Helena, Montana
Omaha, Nebraska
Las Vegas, Nevada
Reno, Nevada
Concord, New Hampshire
Elizabeth, New Jersey
Jersey City, New Jersey
Asheville, North Carolina
Raleigh, North Carolina
Cincinnatti, Ohio
Cleveland, Ohio
Columbus, Ohio


Oklahoma City, Oklahoma
Portland, Oregon
Philadelphia, Pennsylvania
Pittsburgh, Pennsylvania
Providence, Rhode Island
Charleston, South Carolina
Pierre, South Dakota
Nashville, Tennessee
Amarillo, Texas
Austin, Texas
Dallas, Texas
Fort Worth, Texas
Houston, Texas


Laredo, Texas
Lareto, Texas
San Antonio, Texas
Salt Lake, Utah
Montpelier, Vermont
Richmond, Virginia
Seattle, Washington
Charleston, West Virginia
Green Bay, Wisconsin
Cheyenne, Wyoming
Washington DC
Trenton, New Jersey
Albuquerque, New Mexico


Albany, New York
Long Island, New York
Manhattan, New York
New York City
Queens, New York
Yonkers, New York
Rochester, New York
Bismark, North Dakota


Partial list of cities in the United States where Day Translations have professional translators and interpreters




Abidjan
Adis Abeba
Alexandria
Alger
Almadabad
Amsterdam
Ankara
Athina
Auckland
Baghdãd
Bangalore


Bangdung
Bangkok
Beijing
Bogotá
Berlin
Brussels
Baghdãd
Cadiz
Cairo
Calcutta
Cali


Cape Town
Caracas
Cartagena
Cartago
Casablanca
Changchun
Chengdu
Chennai
Chile
Chongging
Copenhagen


Cúcuta
Dalian
Delhi
Dhaka
Dubai
Dusseldorf
Belo Horizonte
Essen
Florence
Frankfurt
Fukuoka


Geneva
Guadalajara
Guangzhou
Handan
Hangzhou
Hanoi
Harbin
Ho Chi Minh
Hong Kong
Hyderabad
Istanbul


Jakarta
Jinan
Kaiserslauten
Karachi
Katowice
Kinshasa
Koln
Kuala Lumpur
Lagos
Lahore
Lima


London
Madrid
Malaga
Manila
Manizales
Maputo
Marseilles
Medellín
Melbourne
Mendoza
Mexico City


Milan
Milano
Monterrey
Montréal
Moscow
Mumbai
Munich
Muscat
Nagoya
Nanjing
Napoli


Nice
Osaka
Paris
Porto Alegre
Prague
Pune
Pusan
Qingdao
Quimbaya
Recife
Rio de Janeiro


Riyad
Rome
Rosario
Salvador
Santiago
Sto Domingo
São Paulo
Seoul
Sevilla
Shanghai
Shenyang


Shenzhen
Singapore
Sonora
St.Petersburg
Stockholm
Sydney
Taipei
Tehrãn
The Hague
Tianjin
Tijuana


Tokyo
Toronto
Valledupar
Vancouver
Vienna
Wuhan
Xi'an
Yangon
Zürich